Sale!
BumGenius Freetime
£15.99 – £19.99
Bumgenius Freetime,  a onesize, all in one cloth nappy which means no stuffing or loosing parts in the wash. Our best seller since 2012
Description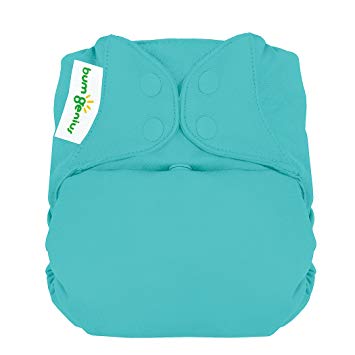 Editor Rating

Rated 5 stars

Spectacular
---
Jennifer Murray

Reviewed by:

Juliet

Published on:

21st May 2019

Last modified:

20th July 2023
---
BumGenius Freetime an award winning US brand of reusable nappies £19.99 (Blossom and Ballet £15.99)
plus further 5% discount on £50 spend USE CODE 5PC  or 10% discount on £100 spend 10PC 
| | |
| --- | --- |
| Absorbency | Average |
| Drying Time | Very quick – 5 hours |
| Fit (Slim or bulky) | Slim – bit bulky on small babies as it is a birth to potty nappy |
| Easy To Use | Very |
| Fastening | Poppers |
| Made | USA |
| Material | fleece and micro terry inner and PUL outer  |
| Need Separate Wrap | No |
| Day or Night | day only |
| Sizing | Birth to Potty 8 – 35lbs / 3.6 – 15.8kg |
Bumgenius are renowned for their bumgenius V5 pocket, bumgenius elemental and their flexible Flip system, they aim to make washable nappies as easy to use as disposables.   Their latest innovation is the simplest yet, a fool proof all in one birth to potty nappy – the Bumgenius Freetime. 
Multiple layers of attached stay dry lined microfibre make this a very simple to use cloth nappy with no stuffing or unstuffing of boosters/inserts.  It is also very quick drying.   The stay dry flaps can be folded in various settings to adjust the absorbency for example – fold the flap to the front for a boy, or in the middle for a girl or lay flat for newborns.  Plus you have the option to create a wetter layer next to your babies skin to aid potty training, with older babies you can fold over and have the micro layer rather than the fleece layer next to your baby's bottom,  allowing them to feel wet,  this is proven to be the reason why babies in cloth nappies potty train earlier.  This is a super easy cloth nappy which is great for busy parents and for resistant reusable nappy users!  
My Opinion – I love this nappy and have had fantastic feedback from my customers over the 8 years I have been selling it.  I think it is probably the easiest cloth nappy to use in that there is no fiddly separate boosters to deal with,  it drys really quickly and it fits very well for most babies.  
Lots of questions too, regarding how it compares the Bumgenius V5 and Elemental.  In my opinion there are three main differences –
a) drying time – the Bumgenius Freetime taking slightly longer taking 5 – 6  hours whereas the BGV5 takes around 4 – 5 hours and the elemental takes 10 – 11 hours).
b) bulk on a newborn baby (the Bumgenius V5 is slimmer fitting on newborn babies because you can remove one of the boosters with the Freetime and Elemental the boosters are attached and cannot be taken out).  
c) ease of use, with the Bumgenius Freetime and the Elemental there is no stuffing or unstuffing of boosters after use, when hanging out to dry and when putting on,  so the Freetime and Elemental are a bit easier and less time consuming to use. 
It is worth pointing out that this nappy does not always fit a newborn baby, particularly if your baby is small (under 8lbs).  So if you have a set of these nappies and find they leak a bit at the beginning, hang in there until your baby is a bit bigger.
My Tips – you can use a small bamboo booster underneath the flaps to increase absorbency for older babies.  Buy the small size bamboo booster which fits better in this nappy.    As with most 'all in ones' we recommend them for day time use only as generally they will not last a full nights sleep, certainly not on toddlers!  (Use a bamboo nappy (Sandys, Totsbots or Little Lamb) with separate outer wrap (Motherease Airflow or Thirsties Duo) for nights to be sure of no leaks. 
Washing – wash between 40° to 60°.   Washing and Care – please read carefully our full 'washing and care instructions'.  All nappies and wraps must be washed according to our care instructions otherwise the manufacturers guarantee will not be valid.  All new nappies must be washed before they are used.  Please note that when buying a large number of cloth nappies you should just wash a few in the first instance, and check you are happy with your choice, as I cannot refund on used or washed nappies. This nappy can be tumble dried on a low heat, however it is advisable to only tumble dry occasionally as it does shorten the life of the nappy and of course cost you more. Do not use Ecover washing powder or liquid with your cloth nappies
Sizing 
fits from 8lbs – 35lbs/3.6kg to 15.9kg
Additional information
| | |
| --- | --- |
| Weight | 0.25 kg |
| Colours | Ballet, dazzle stripes, My Moon, White, ALBERT, Alicia, Armadillo, Audrey, BE MINE, BIG WOODS, Blossom, Bubble, Clementine, Clementine Stripes, countess, Countess Dots, Dazzle, FASTER, Fearless, GO, Grasshopper, Hummingbird, Jelly, Jolly, Kiss, LOVE, LOVELACE, Mid Century, Mirror, Moonbeam, MOZART, My Sun, NEIL, Noodle, PATCHWORK, Pepper, PLAY, PRAIRIE FLOWERS, Ribbit, Sassy, Sassy Dots, sassy stripes, SIERPINKSKI, Stellar, STOP, Sweet, Twilight, Zinnia |