Sale!
Little Lamb Cotton Size 3 Toddler Nappy
Little Lamb Cotton Size 3 Toddler Nappy is a durable night time nappy for your older baby, use with outer wrap
19 in stock
Description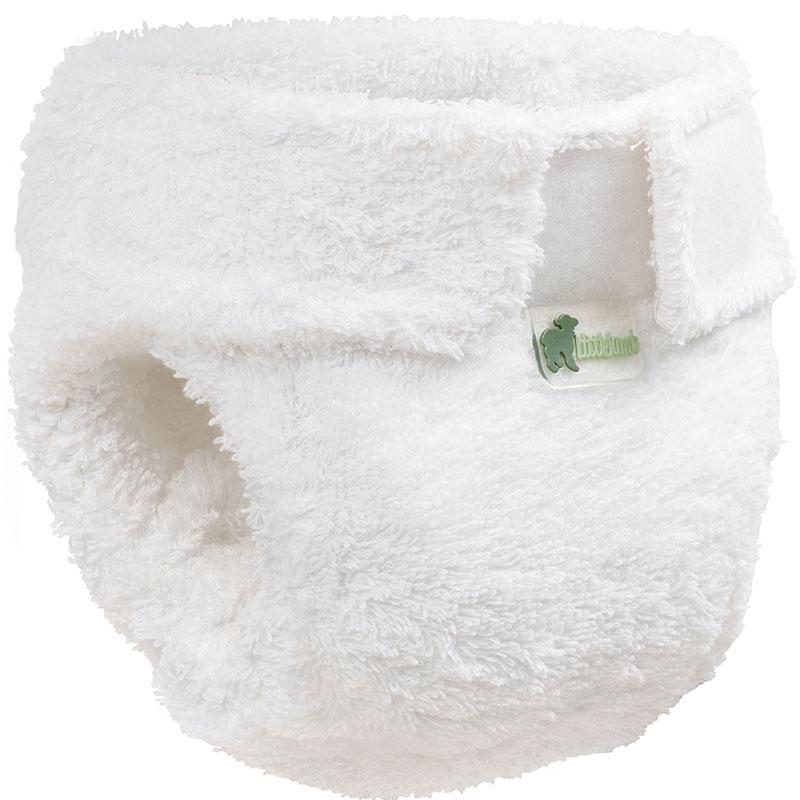 Editor Rating

Rated 5 stars

Spectacular
---
Reviewed by:

Published on:

Last modified:
---
Little Lamb Cotton Size 3 Toddler Nappy
SPECIAL DISCOUNT – buy any 3 Little Lamb nappies/wraps get 12% off  – buy any 5 Little Lamb nappies/wraps get 20% off  – mix & match
NO FURTHER DISCOUNTS WILL APPLY ON THESE PRODUCTS *products include bamboo, cotton, microfibre, nippa, organic cotton nappies, wraps, onesize pocket, sized pocket nappies
| | |
| --- | --- |
| Absorbency | Good |
| Drying Time | Slow |
| Fit (Slim or bulky) | Bulky  |
| Easy To Use | Quite Easy |
| Fastening | Velcro |
| Made | Turkey  |
| Material | Cotton |
| Need Separate Wrap | Yes |
| Day or Night | Day & Night |
| Sizing |  35lbs + / 16kg + |
Little Lamb cotton size 3 toddler nappy's were first introduced over sixteen years ago.  There has been a move to bamboo nappies recently due to the increased absorbency and softness of bamboo,  however bamboo fibres are not as strong as cotton so cotton does have advantages.  Cotton nappies really do go on and on and can be used on multiple children, I have known a parent use cotton shaped nappies on four children and pass them on to her sister who used them on two more !   The same could not be said of a bamboo nappy which will become pretty threadbare after two kids.  Cotton is also faster drying than bamboo and takes around 7 -9 hours to line dry.  Each nappy comes with a fleece liner which will keep the layer next to babies skin super soft and dry.  While the main fabric is cotton there will be some polyester content due to fabric weave, elastics and velcro tabs.  The free fleece liner that comes with each nappy can be left out and paper liners used if you prefer, or no liners at all is also an option.
Little Lamb cotton size 3 toddler nappy  fastens with Velcro making it extremely simple to use.
The tabs on all the Little Lambs have a crossover tab at the waist so the nappy can be made a tighter fit for a smaller baby.  There are laundry tabs inside each nappy which are designed to secure the tabs before the nappy goes into the bucket or washing machine. This prevents the velcro picking up fluff in the washing machine and makes the velcro long lasting. You will need a waterproof outer wrap for this nappy and the Little Lamb size 3 wrap, Thirsties Size 3 Wrap or Motherease Airflow or Rikki XLarge will all work very well
The leg is tight enough to prevent leaks but not too tight to create any chaffing. They use the softest elastic that is gentle on baby's skin but is robust enough to last. The waist is also elasticated to help contain any explosions.  Each nappy comes with a double layer cotton booster to increase absorbency further and is attached to the nappy itself.
Little Lamb size 3 nappies are also available in bamboo or microfibre. Like all Little Lamb nappies the cotton is knitted onto the nappy base rather than weaved to ensure it doesn't shrink.
Our Opinion –  The Little Lamb cotton size 3 nappy is a great toddler nappy or night time nappy for children who are either late potty training or on the larger size and have out grown size 2.   cost effective a short length nappy and if your baby is tall or has the potential to be tall this might not be the ideal nappy unless you are happy to buy all 3 sizes.
Our Tips –  To speed up drying time you can tumble dry this nappy for 20 minutes after washing and this will keep the nappy soft too.  Use the fleece liner which each nappy comes with to keep the nappy dry next to your babies skin.  If you need a really absorbent nappy for an older child then use an extra bamboo insert on the outside of the nappy (between the nappy and wrap).  Motherease XL airflow wraps work particularly well with these nappies as do the size 3 Little Lamb wraps
Washing – wash between 40° to 60°.   Washing and Care – please read carefully our full 'washing and care instructions'.  All nappies and wraps must be washed according to our care instructions otherwise the manufacturers guarantee will not be valid.  All new nappies must be washed before they are used.  Please note that when buying a large number of cloth nappies you should just wash a few in the first instance, and check you are happy with your choice, as I cannot refund on used or washed nappies. This nappy can be tumble dried on a low heat, however it is advisable to only tumble dry occasionally as it does shorten the life of the nappy and of course cost you more. Do not use Ecover washing powder or liquid with your cloth nappies.
Here is a video from Little Lambs showing how their 2 part nappy systems work.