Bumgenius Littles V2
£12.99
Bumgenius V2 Littles is the newest version of the Bumgenius newborn nappy.  Made with super soft 100% cotton next to your babies skin and new improved waistband which dips down to keep the umbilical area dry this is an 'all in one' newborn nappy perfect for the first few months
Description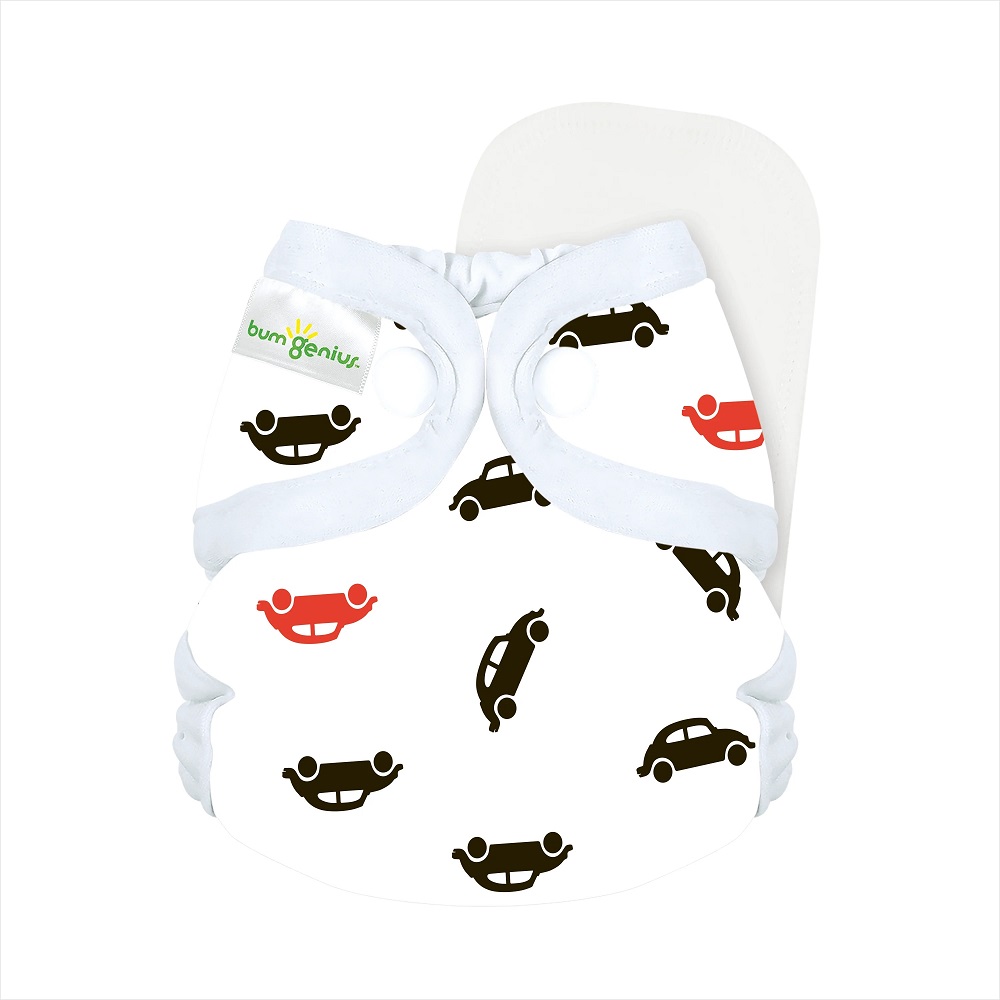 Editor Rating

Rated 5 stars

Spectacular
---
Bente Brattland

Reviewed by:

Published on:

Last modified:
---
Bumgenius Littles V2 5% discount on £50 spend USE CODE

5PC

  or 10% discount on £100 spend

10PC 
FREE paper liners with 10 nappies, FREE wet bag with 15 nappies, FREE paper liners & wet bag with 20 nappies
| | |
| --- | --- |
| Absorbency | Good |
| Drying Time | Quite fast – 6-7 hours line dry |
| Fit (slim or bulky) | Slim |
| Easy To Use | Very |
| Fastening | Poppers |
| Made | USA |
| Material | Cotton inner PUL outer wrap |
| Need Separate Wrap | No |
| Day or Night | Both – newborn babies do not sleep for the whole night |
| Sizing | birth to potty  6 – 12lbs /2.7 -5.5 kg |
| | |
| --- | --- |
| Containment | good – but not as good as two part separate nappy & wrap  |
Bumgenius Littles V2 is the latest newborn nappy from Bumgenius and is designed for babies less than 12 pounds. The front waistband dips down to keep the umbilical area dry and the cotton lining is super soft and absorbent making this an ideal natural solution right from birth. The all-new Bumgenius Littles V2 reversible bonus doubler (separate booster) has stay-dry and cotton sides for added absorbency to fit your baby's changing needs.   They are intended for a newborn and designed to be a slim fit during that itty‐bitty newborn stage.   The soft, cotton lining provides a more natural solution that doesn't compromise performance. The waterproof outer fabric keeps the diaper trim on your newborn. Super stretchy, gentle leg and back elastic with rolled out casings keeps in the yuk and help to keep red marks away.
PLEASE BE AWARE THAT SOME OF THE PRODUCT PATTERN IMAGES ARE NOT SHOWING THE LITTLES NAPPY, THEY ARE DIFFERENT BUMGENIUS PRODUCTS BUT ARE THERE TO SHOW THE PATTERN)
Traps messes and contains leaks
Soft 100% cotton lining provides optimal absorbency
Improved front waistband dips below navel
Proprietary elastic designed specifically for cloth nappies
Waterproof outer cover prevents leaks
Durable plastic snaps keep the nappy securely closed
Bonus doubler has a cotton side and a stay-dry side to provide an extra boost of absorbency
In my opinion –  A lovely tiny nappy for a newborn baby which goes on just like a disposable nappy.  Having a few of these nappies in the first few months can make the switch to cloth nappies seem very easy, but it is an expensive option as they are outgrown quickly.  Excellent option for multiple births as babies are often smaller.
My tips –  If you want to use cloth nappies from birth then 20 of these would be an expensive option.  Think of mixing with alternative lower cost newborn nappies, like some prefolds with nippa's.  Or go straight to one size nappies. 
Washing and Care –  Please read carefully our full 'washing and care instructions'.  All nappies and wraps must be washed according to our care instructions otherwise the manufacturers guarantee will not be valid.  All new nappies must be washed before they are used.  Please note that when buying a large number of cloth nappies you should just wash a few in the first instance, and check you are happy with your choice, as I cannot refund on used or washed nappies. This nappy can be tumble dried on a low heat, however it is advisable to only tumble dry occasionally as it does shorten the life of the nappy and of course cost you more.   
Additional information
| | |
| --- | --- |
| Weight | 0.4 kg |
| Colours | clementine dots, Bubble, Clementine Stripes, countess, Dazzle, FASTER, Fearless, GO, Grasshopper, Kiss, Mid Century, My Sun, Noodle, Sassy, SIERPINKSKI, STOP, Twilight |